Welcome
Thank you for your interest in Encore Playbills. Encore has been proudly serving the Milwaukee-area arts community for over 20 years with the highest quality playbills available. Encore publications are designed to be both an entertaining and educational resource for the audience. They enhance the theatrical experience with full color photographs, community information, and details about the arts event while also providing critical support to the arts community by providing free, ad-supported programs. With a captive audience, your advertisement is sure to get noticed. The programs are read before the show, during intermission, then again at home. We are sure you will be pleased with the response you receive from your advertisement in Encore.
MILWAUKEE SYMPHONY ORCHESTRA PRESENTS BRADLEY SYMPHONY CENTER
The Milwaukee Symphony Orchestra is in the process of restoring and renovating the historic Warner Grand Theater on West Wisconsin Avenue. Thanks to the support of many close friends and donors whose generosity helped us act when the opportunity arose, the Milwaukee Symphony Orchestra will have a permanent home for the first time. In one move, Milwaukee can accomplish economic and neighborhood redevelopment along West Wisconsin Avenue, restore the Historic Warner Grand Theater to its former glory, and establish a dedicated home for the Milwaukee Symphony.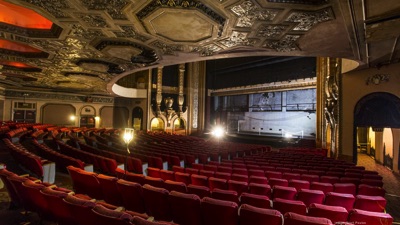 ENCORE
1718 East Menlo Blvd.
Shorewood, WI 53211
P: 414.961.0100
F: 414.961.1813
Sales:
Scott Howland: 414-469-7779
Fax: 414-964-5659